Car Radio Versions

GM MyLink IO4 4" Screen
GM MyLink IO5/IO6 8"
GM UNI-CAM (8" screen)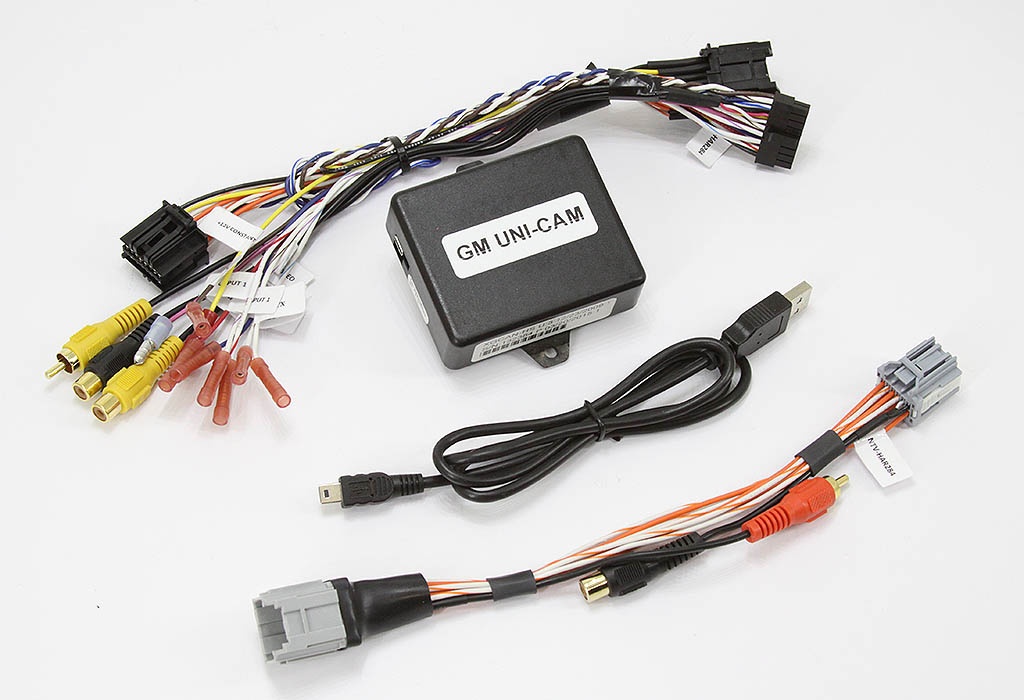 Add to Cart
manufacturer
NAV-TV
SKU
NTV-KIT629
weight
2.00 Lbs
market
USA, Rest of World, Europe
UPC/EAN
00635510692874
The GM UNI-CAM adds an additional video input on select GM vehicles equipped with the MyLink (model IOH) 4" and 8" color media screens and an OEM reverse camera. Forcing cameras to display at any time are activated with wire triggers.
KIT629 is a controller ONLY. It will NOT program rear camera, it is designed for vehicles with an existing OEM camera.

Download as PDF

Installation manual
GM UNI-CAM (8" screen) Compatibility Chart
| Model | Year Range | Version | Radio | Notes |
| --- | --- | --- | --- | --- |
| Cadillac/ATS | 2016-2018 | USA, Rest of World, Europe | GM MyLink IO4 4" Screen, GM MyLink IO5/IO6 8" | |
| Cadillac/CT6 | 2016-2017 | USA, Rest of World, Europe | GM MyLink IO4 4" Screen, GM MyLink IO5/IO6 8" | |
| Cadillac/CTS/CTS V | 2014-2015 | USA, Rest of World, Europe | GM MyLink IO4 4" Screen, GM MyLink IO5/IO6 8" | |
| Cadillac/CTS/CTS V | 2016-2017 | USA, Rest of World, Europe | GM MyLink IO4 4" Screen, GM MyLink IO5/IO6 8" | |
| Cadillac/Escalade | 2016-2020 | USA, Rest of World, Europe | GM MyLink IO4 4" Screen, GM MyLink IO5/IO6 8" | |
| Cadillac/SRX | 2016-2018 | USA, Rest of World, Europe | GM MyLink IO4 4" Screen, GM MyLink IO5/IO6 8" | |
| Cadillac/XTS | 2016-2018 | USA, Rest of World, Europe | GM MyLink IO4 4" Screen, GM MyLink IO5/IO6 8" | |
| Chevrolet/Camaro | 2016-2018 | USA, Rest of World, Europe | GM MyLink IO4 4" Screen, GM MyLink IO5/IO6 8" | |
| Chevrolet/Corvette | 2014-2018 | USA, Rest of World, Europe | GM MyLink IO4 4" Screen, GM MyLink IO5/IO6 8" | |
| Chevrolet/Impala | 2014-2015 | USA, Rest of World, Europe | GM MyLink IO4 4" Screen, GM MyLink IO5/IO6 8" | |
| Chevrolet/Impala | 2016-2018 | USA, Rest of World, Europe | GM MyLink IO4 4" Screen, GM MyLink IO5/IO6 8" | |
| Chevrolet/Silverado 1500 | 2014-2015 | USA, Rest of World, Europe | GM MyLink IO4 4" Screen, GM MyLink IO5/IO6 8" | |
| Chevrolet/Silverado 1500 | 2016-2018 | USA, Rest of World, Europe | GM MyLink IO4 4" Screen, GM MyLink IO5/IO6 8" | |
| Chevrolet/Suburban | 2015-2015 | USA, Rest of World, Europe | GM MyLink IO4 4" Screen, GM MyLink IO5/IO6 8" | |
| Chevrolet/Suburban | 2016-2020 | USA, Rest of World, Europe | GM MyLink IO4 4" Screen, GM MyLink IO5/IO6 8" | |
| Chevrolet/Tahoe | 2015-2015 | USA, Rest of World, Europe | GM MyLink IO4 4" Screen, GM MyLink IO5/IO6 8" | |
| Chevrolet/Tahoe | 2016-2020 | USA, Rest of World, Europe | GM MyLink IO4 4" Screen, GM MyLink IO5/IO6 8" | |
| Chevrolet/Volt | 2016-2017 | USA, Rest of World, Europe | GM MyLink IO4 4" Screen, GM MyLink IO5/IO6 8" | |
| GMC/Canyon | 2014-2015 | USA, Rest of World, Europe | GM MyLink IO4 4" Screen, GM MyLink IO5/IO6 8" | |
| GMC/Canyon | 2016-2018 | USA, Rest of World, Europe | GM MyLink IO4 4" Screen, GM MyLink IO5/IO6 8" | |
| GMC/Sierra Pickup | 2014-2015 | USA, Rest of World, Europe | GM MyLink IO4 4" Screen, GM MyLink IO5/IO6 8" | |
| GMC/Sierra Pickup | 2016-2018 | USA, Rest of World, Europe | GM MyLink IO4 4" Screen, GM MyLink IO5/IO6 8" | |
| GMC/Yukon | 2014-2015 | USA, Rest of World, Europe | GM MyLink IO4 4" Screen, GM MyLink IO5/IO6 8" | |
| GMC/Yukon | 2016-2020 | USA, Rest of World, Europe | GM MyLink IO4 4" Screen, GM MyLink IO5/IO6 8" | |