Car Radio Versions

Navigation equipped radio
RGB-BMW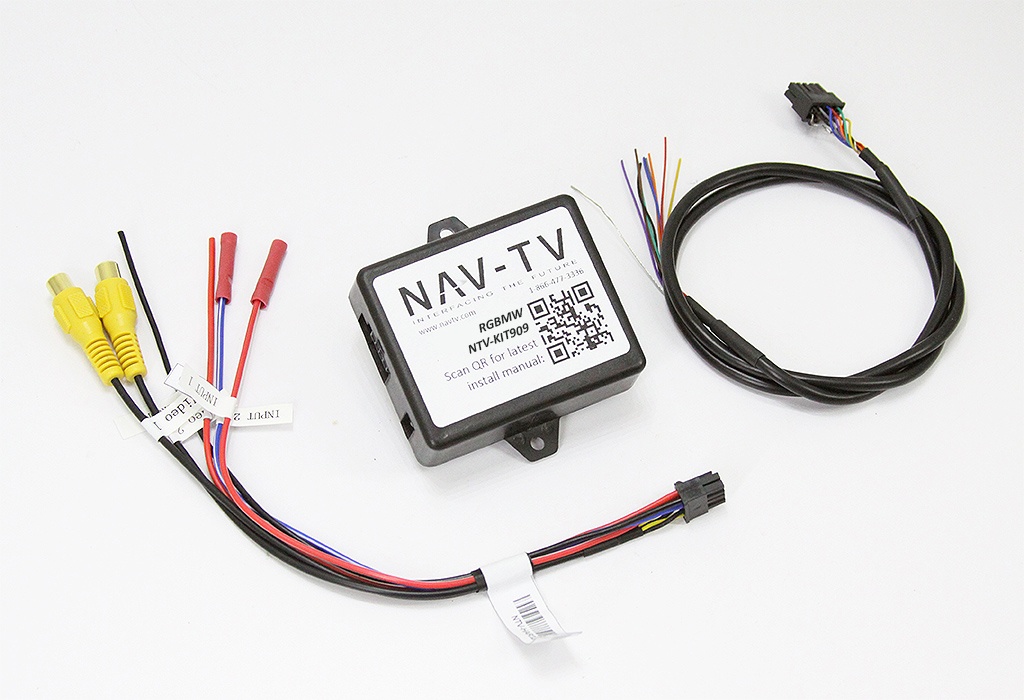 manufacturer
NAV-TV
SKU
NTV-KIT909
weight
1.00 Lbs
market
USA, Rest of World, Europe
UPC/EAN
00635510694779
The RGBMW adds an aftermarket backup camera to the factory navigation screen in select BMW vehicles. A secondary video input is included on the RGB module and can be viewed at any time by supplying power to an input wire (optional.)
NOTE: For vehicles with navigation, but without an iDrive knob, there is an available Plug & Play T-Harness for added installation efficiency.
NOTE 2: The nav/map must be displayed on screen for the camera image to appear. On some vehicles, the map can be changed from split-screen to full-screen using the car's controls.
NOTE 3: If the vehicle is equipped with parking sensors and the navigation is set to full-screen, then the sensors must be turned off after shifting into Reverse to see the camera.

Download as PDF

Installation manual
RGB-BMW Compatibility Chart
| Model | Year Range | Version | Radio | Notes |
| --- | --- | --- | --- | --- |
| BMW/3 Series | 1997-2005 | USA, Rest of World, Europe | Navigation equipped radio | |
| BMW/5 Series | 1997-2003 | USA, Rest of World, Europe | Navigation equipped radio | |
| BMW/7 Series | 1996-2001 | USA, Rest of World, Europe | Navigation equipped radio | |
| BMW/7 Series | 2002-2005 | USA, Rest of World, Europe | Navigation equipped radio | |
| BMW/X3 | 2004-2010 | USA, Rest of World, Europe | Navigation equipped radio | |
| BMW/X5 | 2000-2006 | USA, Rest of World, Europe | Navigation equipped radio | |
| BMW/Z4 | 2004-2007 | USA, Rest of World, Europe | Navigation equipped radio | |
| Land Rover/Range Rover HSE | 2002-2004 | USA, Rest of World, Europe | Navigation equipped radio | |
| Land Rover/Range Rover Sport | 2002-2004 | USA, Rest of World, Europe | Navigation equipped radio | |
| Mini/Cooper | 2002-2007 | USA, Rest of World, Europe | Navigation equipped radio | |