Car Radio Versions

IOT/IOS 8"
ZEN AVB-GM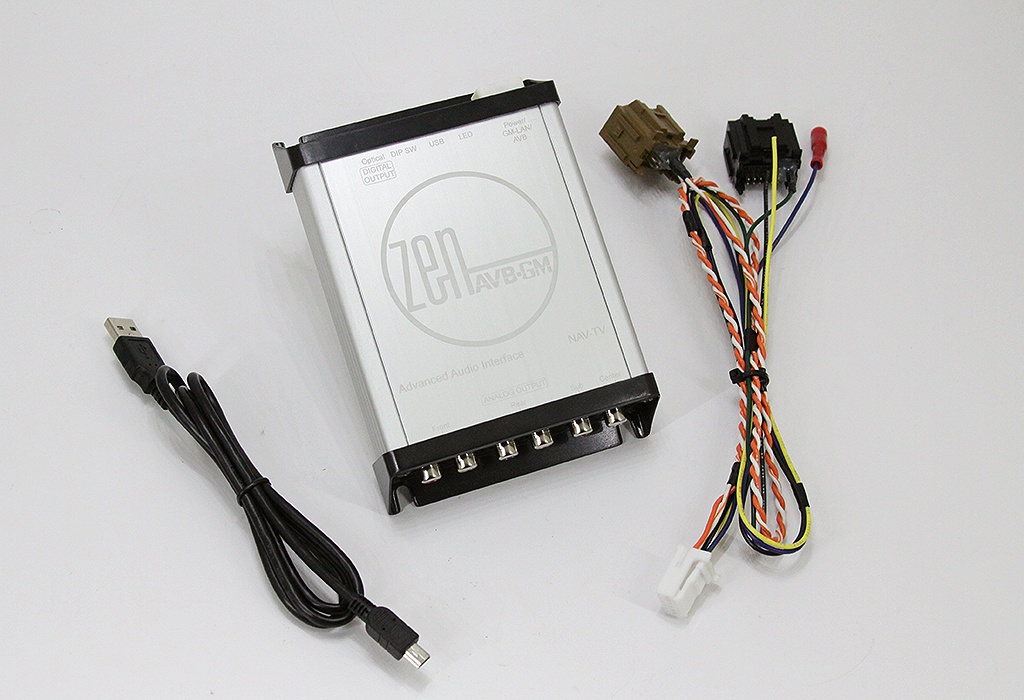 manufacturer
NAV-TV
SKU
NTV-KIT955
weight
2.00 Lbs
market
USA, Rest of World, Europe
UPC/EAN
00635510695394
This product is currently under re-development, and will be available in the near future. If you wish to be placed on the waiting list, please send an E-Mail to Sales@NavTV.com.
NAV-TV's AVB-GM processor seamlessly converts GM's AVB bus to low level (6 channel) Analog RCA or TOSLink outputs. Adding an aftermarket amplifier to the OE BOSE IOS/IOT system will never be so easy or seamless. This plug & play kit integrates with various OEM data networks to retain OnStar, door chimes, volume control, full fade and balance (analog only), treble, mid-range, bass control & Bluetooth voice calls with no external speaker (true OEM integration). NOTE: the OEM amplifier must be disconnected to maintain proper functionality.
Note: TOSLink/SPDIF output is currently not supported.

Download as PDF

Installation manual

Files
ZEN AVB-GM Compatibility Chart
| Model | Year Range | Version | Radio | Notes |
| --- | --- | --- | --- | --- |
| Cadillac/ATS | 2019-2024 | USA, Rest of World, Europe | IOT/IOS 8" | with BOSE only |
| Cadillac/CT6 | 2018-2024 | USA, Rest of World, Europe | IOT/IOS 8" | with BOSE only |
| Cadillac/CTS Coupe | 2019-2024 | USA, Rest of World, Europe | IOT/IOS 8" | with BOSE only |
| Cadillac/CTS/CTS V | 2019-2024 | USA, Rest of World, Europe | IOT/IOS 8" | with BOSE only |
| Cadillac/XT4 | 2019-2024 | USA, Rest of World, Europe | IOT/IOS 8" | with BOSE only |
| Cadillac/XT5 | 2018-2024 | USA, Rest of World, Europe | IOT/IOS 8" | with BOSE only |
| Cadillac/XTS | 2019-2024 | USA, Rest of World, Europe | IOT/IOS 8" | with BOSE only |
| Chevrolet/Blazer | 2019-2024 | USA, Rest of World, Europe | IOT/IOS 8" | with BOSE only |
| Chevrolet/Camaro | 2019-2019 | USA, Rest of World, Europe | IOT/IOS 8" | with BOSE only |
| Chevrolet/Corvette | 2020-2024 | USA, Rest of World, Europe | IOT/IOS 8" | with BOSE only |
| Chevrolet/Silverado 1500 | 2019-2024 | USA, Rest of World, Europe | IOT/IOS 8" | with BOSE only |
| Chevrolet/Silverado 2500/3500 | 2020-2024 | USA, Rest of World, Europe | IOT/IOS 8" | with BOSE only |
| GMC/Acadia | 2019-2024 | USA, Rest of World, Europe | IOT/IOS 8" | with BOSE only |
| GMC/Sierra HD 2500+ | 2020-2024 | USA, Rest of World, Europe | IOT/IOS 8" | with BOSE only |
| GMC/Sierra Pickup | 2019-2024 | USA, Rest of World, Europe | IOT/IOS 8" | with BOSE only |
| GMC/Terrain | 2019-2024 | USA, Rest of World, Europe | IOT/IOS 8" | with BOSE only |