Car Radio Versions

iDRIVE (4-PIN)
MOST-AUX for BMW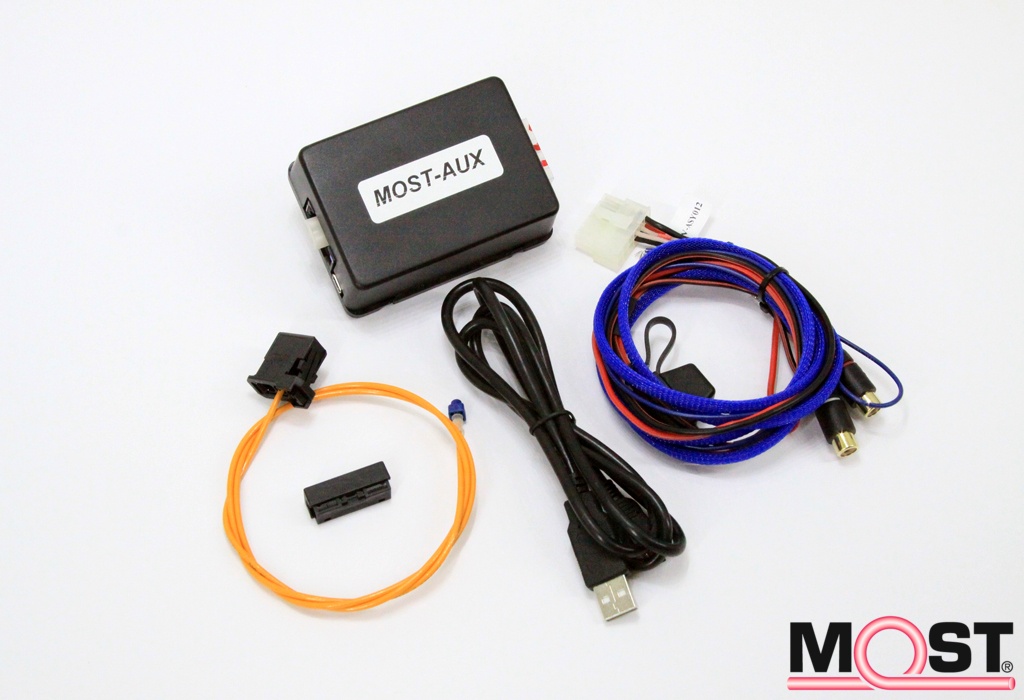 Add to Cart
manufacturer
NAV-TV
SKU
NTV-KIT152
weight
1.00 Lbs
market
USA, Rest of World, Europe
UPC/EAN
00738435028244
The NAV-TV MOST-AUX for BMW is a M.O.S.T. fiber optic interface that introduces audio into select fiber-equipped BMW vehicles with no degradation in sound quality. AUX audio is triggered with an external toggle switch (not included). Unlike cheap FM-based modules that transmit sound via an FM station, the MOST-AUX interfaces directly into the OEM fiber system and is designed to work specifically with a compatibile BMW vehicle.
Note 1:
BMW 7 Series: Some vehicles have an additional amplifier located on the driver's side roof of the trunk. If this amplifier is present, then the MOST-Aux is not compatible with this car.
All other models: Some vehicles do not have an active fiber optic system, and are not compatible with the MOST-Aux. This will often require having an installer disconnect the fiber-optics to verify compatibility.
Note 2: Unlike other versions of the MOST-Aux, the MOST-Aux/BMW requires porgramming using the USB Updater, and this programming will likely need to be done multiple times before the correct settings are found, and in some VERY, VERY RARE cases, the vehicle may end up being incompatible.

Download as PDF

Download manual

Files
MOST-AUX for BMW Compatibility Chart
| Model | Year Range | Version | Radio | Notes |
| --- | --- | --- | --- | --- |
| BMW/1 Series | 2004-2008 | USA, Rest of World, Europe | iDRIVE (4-PIN) | |
| BMW/1 Series | 2009-2011 | USA, Rest of World, Europe | iDRIVE (4-PIN) | |
| BMW/3 Series | 2006-2008 | USA, Rest of World, Europe | iDRIVE (4-PIN) | |
| BMW/3 Series | 2009-2011 | USA, Rest of World, Europe | iDRIVE (4-PIN) | |
| BMW/5 Series | 2004-2008 | USA, Rest of World, Europe | iDRIVE (4-PIN) | |
| BMW/5 Series | 2009-2011 | USA, Rest of World, Europe | iDRIVE (4-PIN) | |
| BMW/6 Series | 2004-2008 | USA, Rest of World, Europe | iDRIVE (4-PIN) | |
| BMW/6 Series | 2009-2011 | USA, Rest of World, Europe | iDRIVE (4-PIN) | |
| BMW/6 Series | 2012-2012 | USA, Rest of World, Europe | iDRIVE (4-PIN) | |
| BMW/7 Series | 2006-2008 | USA, Rest of World, Europe | iDRIVE (4-PIN) | |
| BMW/7 Series | 2009-2011 | USA, Rest of World, Europe | iDRIVE (4-PIN) | |
| BMW/X3 | 2011-2011 | USA, Rest of World, Europe | iDRIVE (4-PIN) | |
| BMW/X5 | 2007-2009 | USA, Rest of World, Europe | iDRIVE (4-PIN) | |
| BMW/X5 | 2010-2011 | USA, Rest of World, Europe | iDRIVE (4-PIN) | |
| BMW/X6 | 2008-2008 | USA, Rest of World, Europe | iDRIVE (4-PIN) | |
| BMW/X6 | 2009-2011 | USA, Rest of World, Europe | iDRIVE (4-PIN) | |
| BMW/Z4 | 2009-2011 | USA, Rest of World, Europe | iDRIVE (4-PIN) | |
| Mini/Clubman | 2010-2015 | USA, Rest of World, Europe | iDRIVE (4-PIN) | |
| Mini/Cooper | 2008-2008 | USA, Rest of World, Europe | iDRIVE (4-PIN) | |
| Mini/Cooper | 2009-2013 | USA, Rest of World, Europe | iDRIVE (4-PIN) | |
| Mini/Countryman | 2011-2014 | USA, Rest of World, Europe | iDRIVE (4-PIN) | |
| Rolls-Royce/Ghost | 2009-2011 | USA, Rest of World, Europe | iDRIVE (4-PIN) | |