Car Radio Versions

NTG5
NTG5, NTG5.1, NTG5.2
NTG5.5 (E, S, Maybach)
Mercedes USB to Aux-In Audio Adapter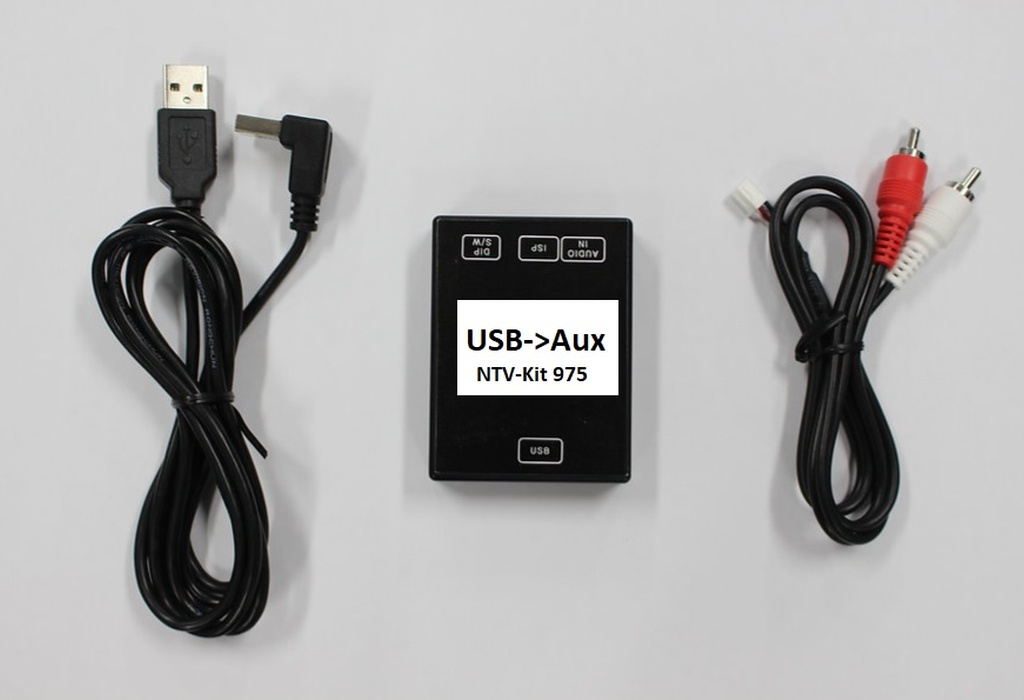 Add to Cart
manufacturer
NAV-TV
SKU
NTV-KIT975
weight
2.00 Lbs
market
USA, Rest of World, Europe
USB to Aux-In Audio Adapter for newer Mercedes vehicles with a USB A port.
Since most new vehicles no longer have a standard Aux Audio jack, this device will "convert" the factory USB port into an Aux Audio jack, which can then be used to play audio from "classic" audio sources.
Note: Not compatible with vehicles that have a USB C Port.

Download as PDF
Mercedes USB to Aux-In Audio Adapter Compatibility Chart
| Model | Year Range | Version | Radio | Notes |
| --- | --- | --- | --- | --- |
| Mercedes-Benz/A-Class | 2015-2018 | USA, Rest of World, Europe | NTG5, NTG5, NTG5.1, NTG5.2, NTG5.5 (E, S, Maybach) | Must have a USB a, and NOT a USB C port |
| Mercedes-Benz/B-Class | 2015-2018 | USA, Rest of World, Europe | NTG5, NTG5, NTG5.1, NTG5.2, NTG5.5 (E, S, Maybach) | Must have a USB a, and NOT a USB C port |
| Mercedes-Benz/C-Class | 2015-2018 | USA, Rest of World, Europe | NTG5, NTG5, NTG5.1, NTG5.2, NTG5.5 (E, S, Maybach) | Must have a USB a, and NOT a USB C port |
| Mercedes-Benz/CLA | 2015-2018 | USA, Rest of World, Europe | NTG5, NTG5, NTG5.1, NTG5.2, NTG5.5 (E, S, Maybach) | Must have a USB a, and NOT a USB C port |
| Mercedes-Benz/CLS | 2015-2018 | USA, Rest of World, Europe | NTG5, NTG5, NTG5.1, NTG5.2, NTG5.5 (E, S, Maybach) | Must have a USB a, and NOT a USB C port |
| Mercedes-Benz/E-Class | 2015-2016 | USA, Rest of World, Europe | NTG5, NTG5, NTG5.1, NTG5.2, NTG5.5 (E, S, Maybach) | Must have a USB a, and NOT a USB C port |
| Mercedes-Benz/E-Class | 2017-2020 | USA, Rest of World, Europe | NTG5, NTG5, NTG5.1, NTG5.2, NTG5.5 (E, S, Maybach) | Must have a USB a, and NOT a USB C port |
| Mercedes-Benz/G-Class | 2016-2018 | USA, Rest of World, Europe | NTG5, NTG5, NTG5.1, NTG5.2, NTG5.5 (E, S, Maybach) | Must have a USB a, and NOT a USB C port |
| Mercedes-Benz/GL | 2016-2018 | USA, Rest of World, Europe | NTG5, NTG5, NTG5.1, NTG5.2, NTG5.5 (E, S, Maybach) | Must have a USB a, and NOT a USB C port |
| Mercedes-Benz/GLA | 2016-2024 | USA, Rest of World, Europe | NTG5, NTG5, NTG5.1, NTG5.2, NTG5.5 (E, S, Maybach) | Must have a USB a, and NOT a USB C port |
| Mercedes-Benz/GLC | 2016-2018 | USA, Rest of World, Europe | NTG5, NTG5, NTG5.1, NTG5.2, NTG5.5 (E, S, Maybach) | Must have a USB a, and NOT a USB C port |
| Mercedes-Benz/GLE | 2016-2019 | USA, Rest of World, Europe | NTG5, NTG5, NTG5.1, NTG5.2, NTG5.5 (E, S, Maybach) | Must have a USB a, and NOT a USB C port |
| Mercedes-Benz/GLK | 2015-2016 | USA, Rest of World, Europe | NTG5, NTG5, NTG5.1, NTG5.2, NTG5.5 (E, S, Maybach) | Must have a USB a, and NOT a USB C port |
| Mercedes-Benz/GLS | 2015-2018 | USA, Rest of World, Europe | NTG5, NTG5, NTG5.1, NTG5.2, NTG5.5 (E, S, Maybach) | Must have a USB a, and NOT a USB C port |
| Mercedes-Benz/GT AMG | 2015-2018 | USA, Rest of World, Europe | NTG5, NTG5, NTG5.1, NTG5.2, NTG5.5 (E, S, Maybach) | Must have a USB a, and NOT a USB C port |
| Mercedes-Benz/ML | 2016-2018 | USA, Rest of World, Europe | NTG5, NTG5, NTG5.1, NTG5.2, NTG5.5 (E, S, Maybach) | Must have a USB a, and NOT a USB C port |
| Mercedes-Benz/Maybach | 2015-2020 | USA, Rest of World, Europe | NTG5, NTG5, NTG5.1, NTG5.2, NTG5.5 (E, S, Maybach) | Must have a USB a, and NOT a USB C port |
| Mercedes-Benz/S-Class | 2014-2018 | USA, Rest of World, Europe | NTG5, NTG5, NTG5.1, NTG5.2, NTG5.5 (E, S, Maybach) | Must have a USB a, and NOT a USB C port |
| Mercedes-Benz/SLC | 2016-2018 | USA, Rest of World, Europe | NTG5, NTG5, NTG5.1, NTG5.2, NTG5.5 (E, S, Maybach) | Must have a USB a, and NOT a USB C port |